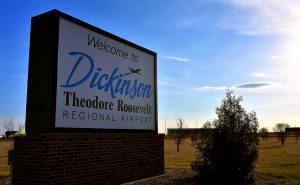 The Dickinson Municipal Airport Authority is an independent five member board, which is appointed by the City Commission. This board oversees the operation of the Dickinson Theodore Roosevelt Regional Airport. Because the operation of the airport is overseen by an independent board, it is separate from the City. The board has authority to issue bonds, set budgets, hire staff, and direct the City to levy up to four mills of property taxes.
The members of the Airport Board are:
Jon Frantsvog – Chairman
Shawn Soehren – Vice Chairman
Craig Steve – Secretary/Treasurer
Jeff Moore – Commissioner
Ken Kussy – Commissioner
Airport Commissioners are appointed to five-year terms.
The Airport Commission hires an airport manager to oversee the day to day operation of the airport. Airport Manager Kelly Braun can be reached for information and questions about the airport at (701) 483-1062.  DickinsonAirport@ndsupernet.com
Regular Airport Board meetings are scheduled on the 2nd Tuesday of each month at 4:00 P.M. at the Airport Operation Building. The Airport Operation Building is located at 11120 42nd St. SW. (ADA Accessible)
Post Meeting Minutes