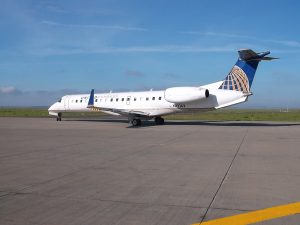 Flying out of Dickinson has big advantages (smaller lines, less waiting), and you will find the security/boarding process fairly simple. However, we will still offer you these following suggestions to ensure a pleasant experience:
(Click HERE for more information on United's TSA Precheck® program)
Dickinson Airport offers precheck screening
Pack your patience, and enjoy your travel experience.
United Airlines advises travelers to arrive early, at least 1.5 hours prior to flight departure time.
Have photo identification ready upon check-in and at departing gate (example, drivers license, passport).
Only ticketed passengers will be allowed through security checkpoints. Please see airline ticket counter personnel if you have any special needs.
Electronic Ticket customers must bring a photo id, a printed itinerary or receipt verifying your flight information. You will need this document at the security checkpoint to proceed to gate.

You may call the TSA Contact Center at (866) 289-9673 between 8 a.m. and 11 p.m. (ET) Monday through Friday, or between 9 a.m. and 8 p.m. (ET) on weekends and holidays, email us at TSA-ContactCenter@tsa.dhs.gov or submit a form online at Customer Service | Transportation Security Administration (tsa.gov).