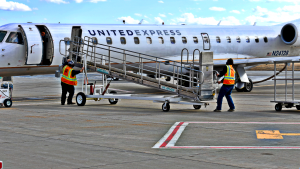 The Dickinson Theodore Roosevelt Airport is currently serviced by
United Airlines
.
United offers the following flights to Denver, Colorado:
2 round-trip flights per day
From there, they offer connections all over the world!
For flight times, ticket booking, ticket prices and other information:
To obtain information about United Airlines ticket booking, prices, and other topics, visit United Airlines' website at www.united.com or call their toll-free reservations number at 1-800-864-8331.
Due to enhanced security measures, the airlines and the Transportation Security Administration (TSA) ask that you arrive at the airport 90 minutes prior to your scheduled departure time. Just like the other airports across the country, all scheduled airline service out of Dickinson is screened by the TSA to ensure the safety of you and your fellow passengers.