Here is a quick overview of the Dickinson Airport:
KDIK – Theodore Roosevelt Regional Airport
Main runway (14/32) is 6400 x 100 feet
Crosswind runway (7/25) is 4700 x 75 feet
All runways are lighted and VASI/PAPI equipped
To increase light intensity, key hand mike on UNICOM (123.00)
Runway 32 is ILS-equipped via frequency 108.30
There is 1 precision instrument and 3 non-precision approaches at KDIK
Traffic Pattern Altitude is 3602 MSL for single engine, 4102 MSL for multi-engine
NOTAM D service is available
Located within Class E airspace
Located within Grand Forks FSS and Minneapolis Center air sector
Full-service FBO (fuel and maintenance) located on field
Commercial development and ground leases contact DickinsonAirport@ndsupernet.com or at 701-483-1062.
Commercial Terminal Hours
5:30am to 10:00pm Daily
Please be advised that not all airlines may be available when the terminal is open and times are subject to change based on flights schedules and holidays.
2022 Tarmac Delay Plan (click below to view)
Dickinson Theodore Roosevelt Regional Airport Tarmac Delay Plan 2022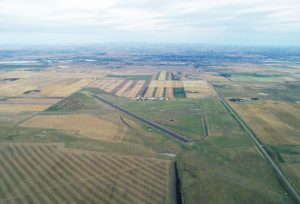 Location
Dickinson, North Dakota, gateway to Theodore Roosevelt National Park and home to Dickinson State University, is a home rule city of 25,000 – 30,000 located on Interstate 94 in Southwest North Dakota about 60 miles east of the Montana State line. We are also located less than an hour's drive from Lake Sakakawea, the largest of the mainstem reservoirs on the Missouri River, which is a wonderful fishing and recreation resource.
For more information about Dickinson, please reference the following:
Dickinson North Dakota Chamber of Commerce
Dickinson Convention and Visitor's Bureau
For more detail directions, click here.
FREQUENCIES
UNICOM
123.00
ASOS
118.375
DIK VOR
(HIWAS)
112.90
Flight Service
(Grand Forks)
122.2
Flight Watch
(Minneapolis)
122.0
Minneapolis Center
124.25
---
Flight Service
(Grand Forks)
1-800-WX-BRIEF
DIK ASOS
701-227-0280
Airport Manager
701-483-1062
Western Edge Aviation
701-483-4221